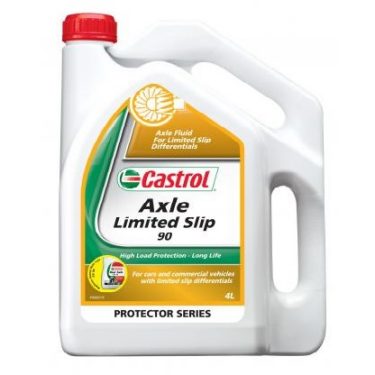 Castrol Axle Limited Slip 90
Axle fluid for use in limited slip differentials where API GL-5 performance is required.

APPLICATION
Primarily recommended for use in limited slip differentials fitted to a wide range of Australian, American, Japanese, British and European vehicles.

FEATURES & BENEFITS

Optimised and stable friction characteristics for effective operation of limited slip differentials throughout the drain interval.
Very good anti-wear and load carrying performance even under high load conditions prolongs component life.
Anti-weld – high tooth loadings can be tolerated.
Friction modified – providing desired frictional characteristics required by the clutches in the limited slip differential.
High film strength – providing protection against wear.
Thermally stable additive chemistry – less sludge and cleaner gears.

SPECIFICATION/TECHNICAL DATA
API Service Classification GL-5 (and obsolete GL-6)
SAE J306 Viscosity Classification 90
US MIL-PRF-2105F, MIL-L-2105B,C,D,E
Borg Warner 5M-31, 5M-41
Ford ESW-M2C-119A, ESW-104, ESW M2C-105A
Mack GO-J

Protector Series