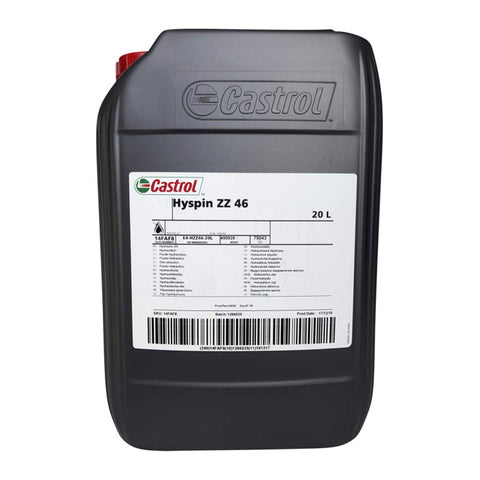 Castrol Hyspin ZZ Range
A range of non-zinc, mineral oil based hydraulic fluids proven to be resistant to the effects of "dieseling" in highly stressed systems such as plastic injection moulding.


Designed for use in all hydraulic systems in high temperatures exposed to water ingress or where a high level of filterability is required.
Also useful where silver and/or cadmium components are used or where the risk of environmental damage due to spillage (non-zinc) is a concern with normal zinc antiwear additives.

HYSPIN® ZZ46 and HYSPIN® ZZ68 are filtered to 6 micron absolute and filled into new drums to meet ISO14/11 cleanliness standard. This new standard in oil cleanliness will ensure extended oil life and minimize build-up of particles in valves and other precision points in your machines.

FEATURES & BENEFITS
Contains oxidation and corrosion inhibitors with antifoam and demulsification additives
High antiwear performance, allowing pumps to operate at high temperatures without excess water
Zinc and heavy metal free, providing non contaminated waste water for environmentally friendly disposal
Excellent water tolerance – will not break down in presence of water nor form deposits.
Thermal stability allows it to be used in high temperature applications
SPECIFICATION/TECHNICAL DATA
Viscosity: 46 and 68
DIN 51524 Part 2
Denison HF-0 & HF-2
Cincinnati Milacron (P 68-69-70)
Eaton (formerly Vickers) I-286-S & M-2950-S
Bosch-Rexroth RE 07 075
US Steel 126 & 127
Filtered to ISO 14/11