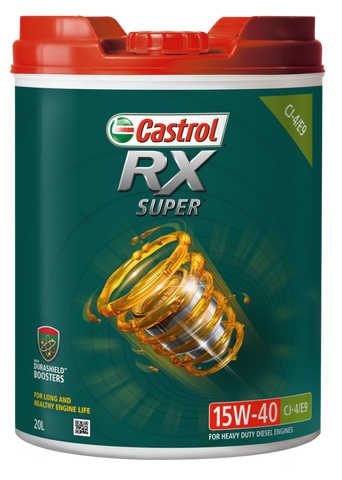 Castrol RX Super 15W-40 CJ-4/E9
Castrol RX Super 15W-40 CJ-4/E9 is an advanced heavy duty diesel engine oil. It is suitable for use in high speed 4-stroke diesel engines that use a broad range of fuel qualities. It is compatible with diesel engines fitted with EGR and the latest exhaust after treatment systems such as; DPF, DOC and/or SCR.
Recommended for use in all naturally aspirated and turbocharged diesel engines fitted in trucks, tractors, buses, LCV's and off-highway equipment, agricultural and fixed plant machinery.
FEATURES & BENEFITS
New and advanced Castrol RX Super 15W-40 CJ-4/E9 with specially engineered DuraShield™ Boosters delivers 40% better wear protection*.
One of the main causes of damage in modern engines is abrasive wear. Castrol RX Super 15W-40 CJ-4/E9 with DuraShield™ Boosters is proven in industry testing to provide protection to your engine in two ways:
Under severe engine operating conditions soot can agglomerate to form large particles which displace oil on moving metal surfaces and results in metal to metal contact.

 

DuraShieldTM Boosters helps to prevent the agglomeration of soot as well as protecting surfaces from wear.
Provides a protective layer on the moving metal surfaces which resists break down even under difficult conditions.
*average of wear parameters in industry tests vs industry standard limits

INDUSTRY SPECIFICATIONS
ACEA E9
API CJ-4
JASO DH-2
CAT ECF-3
Cummins CES 20081
DDC Powerguard 93K218
Mack EO-O Premium Plus
MB-Approval 228.31
RVI RLD-3Volvo VDS 4
Suitable for use in agricultural applications where API CJ-4 or ACEA E9 is required.