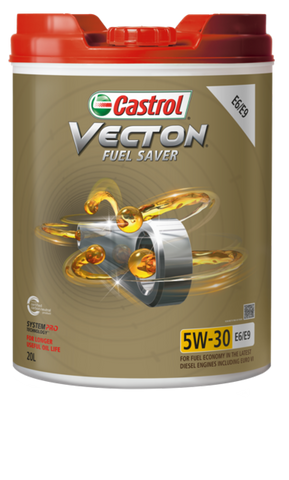 Castrol Vecton Fuel Saver 5W-30 E6/E9
Castrol VECTON Fuel Saver 5W-30 E6/E9 is a full synthetic low SAPS engine oil delivering better performance (than API and ACEA industry standards) in the latest European diesel engines including Euro VI and engines fitted with DPF. It also gave up to 1% fuel saving* in a Euro V engine using the European Transient Cycle test when compared to a modern top tier 15W-40 engine oil.
FEATURES AND BENEFITS
Designed for better fuel economy in the latest Euro VI diesel engines. Also suitable for extended service intervals as recommended by many European engine manufacturers, including Mercedes-Benz, and Volvo, and is approved for use in MAN Euro VI engines.
It can be used in low emission Euro IV & Euro V European trucks and buses, especially those requiring a low SAPS lubricant and in older on-road and off-road vehicles and equipment that require this performance level.

Delivers real world fuel savings without compromising engine protection.

Fights wear to critical engine components even at low viscosity.
Fights piston deposits helping to reduce oil consumption.
Fights harmful acids which form during engine operation.
Maintains the efficiency of exhaust after-treatment systems ensuring continued compliance with emissions legislation.
INDUSTRY SPECIFICATIONS
ACEA E6, E7, E9
API CJ-4
JASO DH-2
CAT ECF-3
Cummins CES 20081
Deutz DQC IV-10LA
Mack EO-M Plus, EO-O Premium Plus
MAN M 3271-1, M 3477 M 3677
MB-Approval 228.31/ 228.51

MTU Oil Category 3.1
RVI RLD-3
Scania Low Ash
Volvo CNG, VDS 4
For Iveco trucks requiring ACEA E6, E7, E9
Meets DAF PX Euro VI requirements
LDF-4