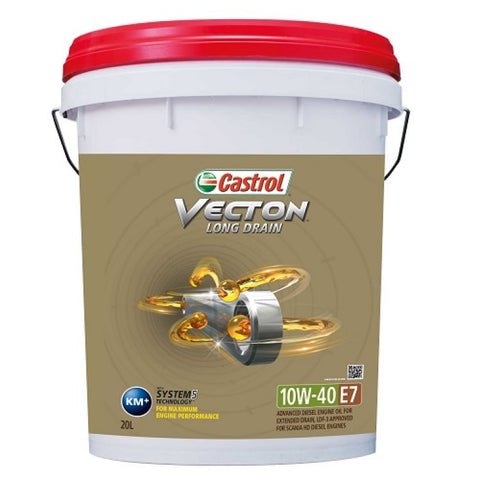 Castrol Vecton Long Drain 10W-40 E7
Castrol VECTON Long Drain 10W-40 E7 is a heavy duty diesel engine oil designed to allow fleet operators to run their Scania vehicles to maximum oil drain intervals. Its primary application is for the latest low emission Euro 4 and Euro 5 Scania trucks and buses and is also suitable for use in any vehicle requiring the ACEA E7 level of performance.
Castrol VECTON Long Drain 10W-40 E7 provides exceptional resistance to soot loading, and delivers outstanding performance when you run extended drains, even under severe operating conditions.
  FEATURES AND BENEFITS
 

Maximum oil drain intervals to keep vehicles on the road for longer. Scania have approved Castrol VECTON Long Drain 10W-40 E7 for use at extended oil drain intervals in their latest diesel engines.
Engine protection, even when soot and other contaminants are present. It protects against all types of engine wear, deposit build-up and bore-polishing. Its advanced formulation continues to protect even under the most severe conditions, extending engine life and preventing unscheduled downtime.
INDUSTRY SPECIFICATIONS
SAE 10W-40
ACEA E4, E7
Scania LDF-3
Volvo VDS-3
Deutz DQC III-10
Mack EO-N
Mack EO-N
MAN M 3277
MB Approval 228.5
MTU Oil Category 3
RVI RLD-2