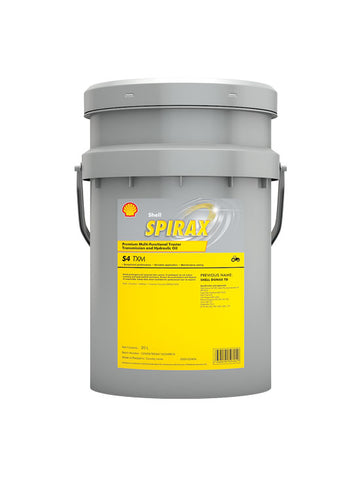 Shell Spirax S4 TXM / D209L
DESCRIPTION

Shell Spirax S4 TXM is a premium "universal tractor transmission oils" (UTTO) designed for use in transmissions, hydraulic systems, oil immersed brakes and other ancillary systems fitted to agricultural tractors and off road equipment. Shell Spirax S4 TXM is recognised by leading agricultural equipment manufacturers and suitable for use in most modern equipment.

AGRICULTURAL TRACTOR TRANSMISSIONS
Spirax S4 TXM has been evaluated against the latest requirements of leading tractor and transmission manufacturers including John Deere, Massey Ferguson, CNH and ZF.

HYDRAULIC SYSTEMS
Spirax S4 TXM is ideally suited for hydraulic systems of tractors and ancillary equipment. Spirax S4 TXM is formulated using specially selected additives and high quality base oils to provide good low temperature fluidity and wear protection.

OIL IMMERSED BRAKES
Special friction modifying additives are included in Spirax S4 TXM to ensure optimum performance of oil immersed brakes whilst minimising brake noise. Spirax S4 TXM is recommended for most wet brake systems fitted to agricultural tractors and off-highway construction equipment.

SPECIFICATIONS

API gear performance GL-4.
Case New Holland MAT-3525, M2C-134 A-D FNHA-2-D.201.00.
John Deere JDM-J20C.
Massey-Ferguson M1143 M1145.
Volvo WB 101.
ZF TE-ML 03E, 05F, 06D, 06K, 17E.
Caterpillar TO-2 (obsolete).
Komatsu recommended for use in certain construction equipment.
Clark.
Spirax S4 TXM is also recommended for use in Case equipment where fluids meeting MS 1204, 1206, 1207, 1209 or 1210 are specified.
Spirax S4 TXM can be used when a SAE 85W grade according to SAE J 306 is recommended.

PACK SIZES

20L pail.
209L drum.
1000L IBC.